Press
Return to the list of articles
Hamlet kills at the Lantern
Michael Goldstein of Examiner
April 11, 2009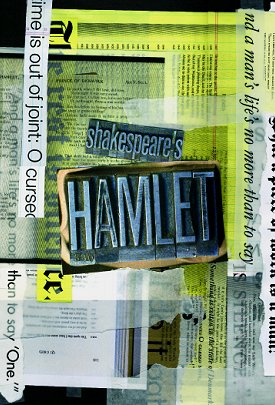 The Lantern Theater Company at St. Stephen's Theater in Philadelphia ends its 2008-2009 season with William Shakespeare's Hamlet. The production is part of "Shakespeare for a New Generation", a national initiative sponsored by the National Endowment for the Arts in cooperation with Arts Midwest. The Lantern utilizes this grant to bring theater to more than 1,000 students who would otherwise not experience the arts in school.

Walking down Ludlow Street to the theater, I was sincerely hoping the production would be well done; theater is not exactly easy, but Shakespeare is especially difficult to perform well, for the language alone is enough to ruin many a performance, transforming what would otherwise be an enjoyable scene into a painful recitation of lines in a foreign language. Fortunately, the cast members were masters of that language. Led by Geoff Sobelle (Hamlet), the talented group of Lantern veterans and newcomers created a wonderful atmosphere in which the language was natural and seemed to flow off their tongues as if the words came from their very hearts.

From the start, the performance was intruiging. Guards with rifles and an old radio. Horatio with a small electric lamp. It took me a second to ensure I was at the correct performance. Charles McMahon--the Lantern's founding Artistic Director and Barrymore-nominated director--takes Hamlet from the 1600s and places it in an almost mystical time period known only as "The Past." This may bother some, as the use of guns and modernized costumes was initially jarring; however, I found it added to the atmosphere of the performance and drew me further into the world of Shakespeare's tragic son. The set, while fairly minimalist, was utilized well and allowed my imagination to expand upon the sights and sounds before me. One thing that stayed with me was that the production was not over the top. A particularly good example is Hamlet's encounter with the Ghost. That scene gave me goosebumps, and while there was so much potential for it to be terribly overdone, it did not. The scene--along with the rest of the performance--was very cinematic, capturing my full attention.

To be, or not to be? That is the question, and it was posed so naturally by Sobelle that I almost missed it. His take on the language was certainly different than most; but, the way he spoke the words added realism to his performance. It was as though the words he spoke were his own, and not lines memorized from a page. I must also say that his athletic ability was certainly put to the test during the performance, and I was greatly impressed.

Joe Guzman's Claudius was eloquent and deceptive, a cunning man no more hesitant to resort to murder than to arbitration. Along with Mary Martello's Gertrude, he created a pair of nobles who were sickening one moment, yet drew pity and compassion the next. Dan Hodge was wonderful as Horatio, bringing a certain trueness to the role.

Melissa Dunphy made her debut at the Lantern as Ophelia, and she performed marvelously. An emotional punching bag, Ophelia is used as bait and lost to madness herself; Dunphy did a beautiful job embodying what grief and emotional turmoil can do to an individual, her facial expressions speaking volumes.

Andrew Kane (Laertes, The Player), Dave Johnson (Rosencrantz, Marcellus, Second Gravedigger, Player Queen), and (Dallas Drummond (Guildenstern, Bernardo, Player King, The Priest, Osric) did a wonderful job playing a variety of roles while creating the illusion of a much larger cast. Thanks partly to the costumes, but primarly to their abilities, it was never hard to distinguish which characters they embodied; each was given a unique personality, and the actor became the character.

Hamlet opened April 7 at 7pm and runs through May 10, 2009. Tickets are $20-$35 with discounts for students, seniors, and groups of 10 or more. The Lantern also offers $15 student rush tickets, which become available 15 minutes before each performance. While the production runs for four more weeks, shows are selling out quickly, and rightly so. To ensure you can see this wonderful production, I suggest going to the Lantern's website (http://www.lanterntheater.org) to purchase tickets.

The Lantern Theater Company was founded in 1994 by Charles McMahon and Michael Brophy and has emerged as one of the most successful professional theaters in the region. The company has been located at St. Stephen's Theater at 10th & Ludlow Streets in Center City Philadelphia since 1996. The Lantern has received 12 awards and 54 nominations for the Philadelphia Barrymore Awards for Excellence in Theatre, including nominations from 2006 to 2008 for the Excellence in Theatre Education and Community Service Award. The 2008-2009 season marks the company's 15th year.